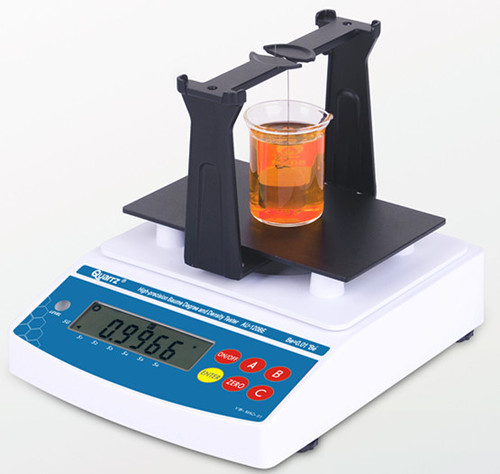 Concentration and Density Tester
Product Description
Warranty for Two Years!!!
2015 NEW!!!
AU-300C
HOT Supplier Digital Electronic Concentration Measuring Instrument , Concentration Meter , Density Measuring Equipment

The series products according to Archimedes principle.it is the new type density and concentration tester that has been researched and produced by Quarrz.concentration value
C%,density SG can be displayed automatically.Function of accuracy,quick
measuring,convenient,reliability.
Application:moveable liquids,viscous liquids,volatile liquids,corrosive liquids,high temperature liquids,suspension liquids,emulsion liquids,acid liquids,alkaline liquids,salt liquids.,etc.
It is suitable for fruit juice,coffee,seasoner,tomato juice,jam,liquid glucose,honey,soybean
milk,grape juice,saline,hydrogen peroxide,isopropanol,food processing industry,brew
industry,beverage industry,beet processing and researching laboratoy.
Standards:In accordance with GB/T13531,T5526,T5009,GB/T
611,GB/T11540,GB/T12206,GB/T5518.
Technical Parameter:
AU-300C concentration resolution:0.1%,measuring range:0.1-100.0%,density
resolution:0.001g/cm3
AU-120C concentration resolution:0.01%,measuring range:0.01-100.00%,density
resolution:0.0001g/cm3
Features:
1. Any kinds of liquids can be measured.
2. Density and concentration can be read directly.
3. High precision,simple operation,stability and durability.
4. Dynamic measuring,density value can be updated along with liquid formula.
5. Function of water temperature setting and air buoyancy density compensation setting.
6. Function of buzzer warning and overload warning.
7. Including RS-232C interface.it is convenient to connect PC with printer.AU-40 can be chose to print data.
8. Equiped with special windproof dustproof cover,convenient structure,sturdy and durable.
9. Volatile liquid,corrosive liquid,viscous liquid,strong acid and strong base liquid can be measured quickly(relative accessories is available)
Measuring Procedure:
(1)Place beaker filled with sample on testing board.and deduct weight of pothhook.
(2)Make standard weight hanged on the pothpook and submerged into liquid to be
tested.Density value,concentration value will be displayed.
Trade Information
300 sets Per Month

3 Days
Contact Us
Floor 8th, HengMei Building, No 81, GuanTai Road, Nancheng District, Dongguan, Guangdong, 523071, China
Phone :86-769-22403424