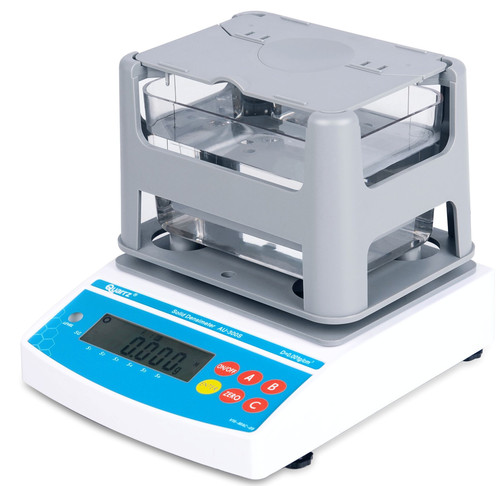 Digital Electronic Densitometer for Solids
Price And Quantity
Product Specifications
Product Description


Measurement resolution:
(1)The density resolution for AU-300S,AU-600S,AU-900S,AU-1200S:0.001g/cm3
(2)The density resolution for AU-120S,AU-200S:0.0001g/cm3

Measuring Procedure:
(1)Place sample on testing board to measure weight in air;press ENTER key to memory.
(2)Place the sample into water;density value will be displayed(No need to press ENTER key)
Anti-counterfeiting Announcement:
The bad and good products is intermingled on market today.Most customers had suffered a lot from the brand replacement products,shell brand products,simulation products,and transferring after-sale service products.To protect your rights,please identify seriously when choose goods.Following is the method to distinguish QUARRZ brand product.
Method one:Start up,machine will display in sequence:brand,model(such as QUARRZ,AU-300S)

Method two:After starting up,press ZERO button and B button at the same time,the machine will display in sequence:brand:model,factory number.of which information correspond to the one marked on machine.

Method three:Check security code that generate automatically by machine number.

Technical Specification:
Brand

QUARRZ

Model

AU-300S

AU-600S

AU-900S

AU-1200S

AU-120S

AU-200S

Weight

Range

0.005~300g

0.005~600g

0.01~900g

0.01~900g

0.001~120g

0.001~200g

Standard deviation

0.005g

0.005g

0.01g

0.01g

0.001g

0.001g

Density

resolution

0.001 g/cm3

0.0001 g/cm3

Measuring board

ABS injection molding

Aluminum alloy

die-casting molding

Range

Either density is more than one or less than one can be meastured

Measturement type

Any shape of solids

Result display

Density,volume,percentage,average value,maximum value,and minimum value

Measturement principle

Archimedes buoyancy method

Measturement time

About 5 seconds

The method of

opening cap

Rapid unimpeded no lifting cap design

Sink

PC completed high capacity transparent PC sink(Size:length15.3 cm X width 10.7 cm X height9.3cm)

Measturement procedure

Place sample on test board, then press ENTER button to memory.

Place the sample into water,density value is displayed.

Parameter setting

Water temperature setting,measuring medium density setting,primary materials and secondary materials setting,air density setting,suspension wire buoyancy deviation setting

Data statistics

Function of 10 group data storage;Automatically display average value,maximum value,and minimum value according to data storage.

Liquid measuring

Choose liquid measuring accessories

Calibration method

Single button calibration,automatically testing

Standard accessories

host,sink,measuring board,tweezers,thermometer,weight,windproof dustproof

shield,one set of measuring granule accessories,one set of measuring floating accessories,power transformer

Data interface

Standard RS-232 interface

Optional accessories

AU-40 printer,data connecting wire

Power

AC110V~220V 50HZ/60HZ (Europe standard)

Gross weight/Packing size

4.5kg/Length 42.5 cm X width 17.5 cm X height 32.5cm
Trade Information
shenzhen

300 sets Per Month
3 Days

standard exporting package
Contact Us
Floor 8th, HengMei Building, No 81, GuanTai Road, Nancheng District, Dongguan, Guangdong, 523071, China
Phone :86-769-22403424