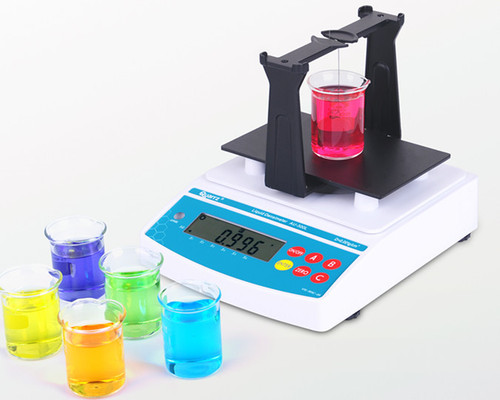 Digital Electronic Density Hydrometer
Product Description
As a reputed and proficient entity of this domain, we are dedicated towards offering Digital Electronic Density Hydrometer. This meter is extensively used to measure the density of various liquids in laboratories. The provided meter is manufactured using quality approved components at our hi-tech production set up with the help of innovative methodology. Apart from this, our precious patrons can purchase this Digital Electronic Density Hydrometer at nominal prices from us.
Features:
Compact design

Requires less space

Ruggedness

High precision measurement


Features:
(1) All kinds of liquid can be measured instantly without limitation.
(2) High precision measurement,easy operation,stable and durable.
(3) Change the liquid formula during dynamic measuring,density value updated accordingly.
(4)AU-300LM,AU-120LM can display density value,baume degree,concentration,sugar degree, plato degree.
(5)The density of samples with the temperature from normal to 100 ºC can be measured.
(6)Take samples conveniently,and 50CC or even less would be ok.
(7)There is no cumbersome debugging and operation compared with traditional wechsler balance method and pycnometer method.
(8)The specific gravity of liquid with required temperature can be measured by coordinating operation with constant temperature sink.
(9)It is very easy to clean measurement cup,and isn't limited by the size of pycnometer caliber.the cup would be reusable and worked with other cups.
(10)volatile liquid,corrosive liquid,and viscous liquid can be quick measured(choose relevant accessories)
(11) Including output RS-232 interface;It's convenient to connect PC and printer.AU-40 could be optionally availabe to print result.
(12)Adopt the unicase special wind dust cover.which makes the combination convenient and durable.

Technical Specification:
BRAND

Quarrz

Model

AU-300L

AU-300LM

AU-120L

AU-120LM

Weight

Range

0.005~300g

0.005~300g

0.001~120g

0.001~120g

Standard deviation

0.005g

0.001g

Density

Resolution

0.001 g/cm3

0.0001 g/cm3

Measurement plate

Aluminium alloy die-cast formation

range

Either density more than one or less than one can be measured

Measurement type

All kinds of liquid can be measured

Measurement principle

Archimedes principle displacement method

Measurement model

3 group liquid measuring mold be provided at the same time.can work with different standard weight

Measurement time

About 5 seconds

Measurement method

Change the liquid formula during dynamic measuring,density value updated accordingly.

Result display

AU-300L,AU-120L display density value

AU-300LM,AU-120LM display density value,baume degree,concentration,sugar degree,plato degree.

Specific gravity measurement shelf

Aluminum alloy specific gravity measuring shelf

Function setting

Water temperature setting,water density setting,standard measuring weights weight value and weight vaule in water setting

Measuring result verification method

Distilled water verification

Output method

RS-232C standard communication interface,which is convenient to output and print data

Standard accessories

host,measurement plate,DE-20A standard liquid measuring assembly,tweezer,thermometer,100Gweight,windproof dustproof cover,measurement support,power transformer

AU-20A standard liquid measurement assembly:

two pcs of stainless steel pothpooks,two pcs of normal glass weight,one pcs of standard stainless steel weight,two pcs of beakers.

Data interface

Standard RS-232 interface

Optional accessories

AU-40 printer,AU-20B anti corrosive liquid measurement assembly,AU-20A standard liquid measurement assembly

Power

Default as AC100V - 240V Europe standard

European Type;British Type;American Type;Australian Type

Packing size

Length42.5 cm X width 17.5 cm X height32.5cm
Trade Information
300 sets Per Month

3 Days
Contact Us
Floor 8th, HengMei Building, No 81, GuanTai Road, Nancheng District, Dongguan, Guangdong, 523071, China
Phone :86-769-22403424