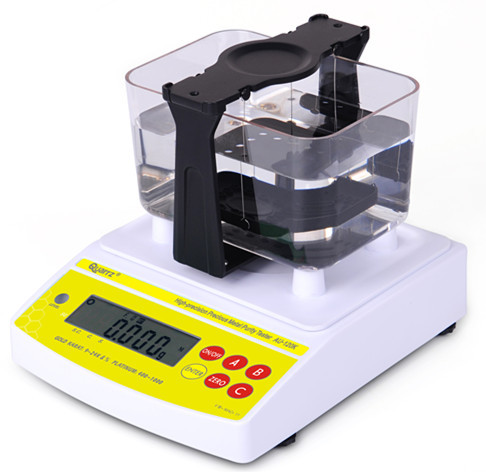 Gold and Silver Tester
Price And Quantity
Product Specifications
Europe Standard AC 100V - 240V

Europe Standard AC 100V - 240V Volt (V)
Product Description
Owing to an extended expertise of 15 years in allied domain, we have been occupied in offering Gold and Silver Tester. The provided tester is extensively used to check the accuracy of gold and silver. This tester is manufactured under the strict vigilance of our adroit professionals using quality-proven components and modern techniques. Moreover, the offered Gold and Silver Tester can be easily purchased from us in different technical specifications.
Features:
Easy readings


Maintenance-free

Overload warning


Easy to clean and maintain
Specification Table
Brand

Quarrz

Model

AU-300K / AU-600K / AU-900K

AU-120K / AU-200K

AU-1200K / AU-2000K / AU-3000K

Style

Hot and Classic

High-precision

High-capacity

Maximum weight

300g / 600g / 900g

120g / 200g

1200g / 2000g / 3000g

Weight standard deviation

0.005g / 0.005g /0.01g

0.001g

0.01g

Minmum measuring sample

Reference weight

4g / 4g / 5g

2g

5g

Density resolution

0.001g/cm3

0.001g/cm3

0.001g/cm3

Sink size

Length15.3 cm×width10.7 cm×height9.3cm

Length20.3 cm×width15.7 cm×height11.3cm

Measuring function

(1)karat value,percentage content,density for gold

(2)PT value,percentage content,density for platinum

(3)S value,percentage content,density for silver

(4)percentage content,density for other alloy.

Gold K value

(9 ,10,11,12,13,14,15,16,17,18,19,20,21,22,23,24)K &content percentage %

Platinum

PT600 ,PT650,PT700,PT750,PT800,PT850,PT900,PT950,PT1000 & content percentage %

Silver

S600 ,S650,S700,S750,S800,S850,S900,S950,S1000 & content %

Measuring principle

Archimedes buoyancy method

Measuring time

About 5 to 20 seconds

Measuring procedure

(1)Measure the weight in air firstly,press ENTER button.

(2)Place the sample into water to measure weight in water.Press ENTER

button.display result.

Parameter setting

Water temperature setting,measuring medium density setting,air density setting,main materials and secondary materials density setting,copper-silver proportion setting

Copper-silver proportion range

can be shifted cyclically with 9/1,8/2,7/3,6/4,5/5,4/6,3/7,2/8,1/9.the default setting is 7/3.

Calibration method

Single button calibration,automatic testing

Standard accessories

(1)Host,(2)Sink,(3)Measuring plate,(4)Tweezers,(5)Thermometer,(6)weight,(7)windproof dustproof cover(8)One set of measuring gold dust accessories(9)Power supply

Data interface

Standard RS-232 interface

Optional accessories

AU-40 printer,AU-40A data connecting line

Power supply

AC100V~240V 50HZ/60HZ Europe standard

Gross weight/size

4.3kg/ Length 42.5 cm× width 17.5 cm×height 32.5cm
(no including weights)
The Advantage for Quarrz's Precious Metal Tester
Wide karat value for gold display from 9K to 24K and % percentage content.

Wide PT value for platinum display from PT600 to PT1000 and % percentage content.

Wide S value for silver display from S600 to S1000 and % percentage content.

Adopt completed testing board and unobstructed without lifting lid design,more simpler operation,also makes the measuring result more reliable.

Two procedure; No need to bundle samples.It is convenient for multiple testing.

No stains or scratches will be left on samples after tested

Multi-function as density meter and gram scale.

Upgrade circuit board;make the testing result more stable and reliable.

Testing frame has been improved;more larger measuring space.

Equiped with windproof cover.
Contact Us
Floor 8th, HengMei Building, No 81, GuanTai Road, Nancheng District, Dongguan, Guangdong, 523071, China
Phone :86-769-22403424