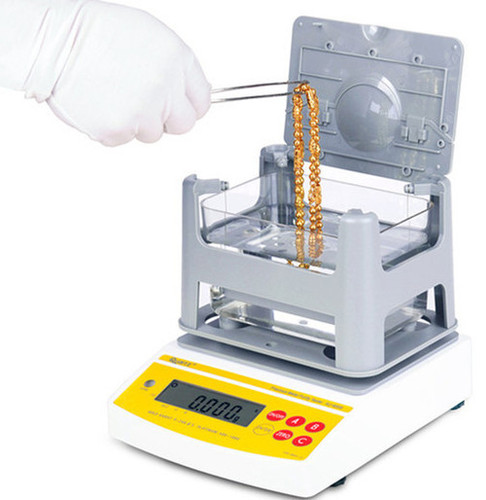 Gold and Silver Testing Machine
Price And Quantity
Product Specifications
Europe Standard AC 100V - 240V

Europe Standard AC 100V - 240V Volt (V)
Product Description
Amongst the noticeable manufacturers, exporters and suppliers, we are occupied in providing Gold and Silver Testing Machine. This machine is manufactured using top-notch grade components and ultra-modern techniques by our agile troop of experts. The provided machine is used as analyzer for precisely calculating the composition of solid pieces in gold and silver. Besides, this Gold and Silver Testing Machine is made accessible to customers at reasonable rates.
Features:
Battery operated

Overload warning

Simple operation

Sturdy design

Application:
pawnbroking,jewelry industry,banking industry,jewelry testing center,mining industry,precious metal recycling,precious metal materials researching laboratory.,etc.
These series instrument is the dramatic updating and upgrading products.Compared with other competing products,it has been focused on enhancing weighting resolution,simplified operation procedure and operation method,upgraded software application function,improved reliability of measuring result. offer respectively three content measuring model for gold,platinum,silver and one alloy measuring model;
No need to bundle samples.Following value can be displayed precisely and quickly with only two procedure:
(1)karat value,percentage content,density for gold
(2)PT value,percentage content,density for platinum
(3)S value,percentage content,density for silver
(4)percentage content,density for other alloy.
Measuring Type:
Precious metal.such as gold,Karat gold,platinum,silver.
Mixed metal or other alloy metal.
Jewelry materials.
such as ring,necklace,bracelet,watchband,belt fastener,gold ingot,gold bar,statue,coin.,etc.
Notes:
Please check the samples to be tested firstly when do testing:
(1).products of which inside is hollow
if the hollow is closed.water or other liquids can't get access into,the samples can't be tested
if the hollow is opened,water or other liquids can get access into,the samples can be tested
(2).products set with precious stones------can't be tested
(3).products of which the density is very close to precious metal------can't be tested
Features:
Distinguish whether the gold,karat gold,platinum,silver,other precious metal is the genuine or not.

Test the purity of gold,karat gold,platinum,silver to confirm if the marked content is correct or not.

No need to cut samples;also it can be measured immediately.

Can shift to measure Karat and purity percentage of gold-silver -copper,gold-copper,gold-silver respectively.

Function of density measuring and normal gram scale.

Either water or alcohol would be as medium.

Function of setting actual water temperature.

Adopt completed injection molding PC sink(length:15.3cm X width10.7cm X 9.3cm)

Including RS-232 interface;It's convenient to connect PC and printer.AU-40 could be optionally availabe to print result.

Adopt injection moulding windproof dustproof shield;Convenient configuration;Better durability.

Power supply:AC 100V-240V;50HZ/60HZ(Europe standard)

Weight/packing size:4.5kg/length 42.5cm X width 17.5cm X height 32.5cm
Contact Us
Floor 8th, HengMei Building, No 81, GuanTai Road, Nancheng District, Dongguan, Guangdong, 523071, China
Phone :86-769-22403424