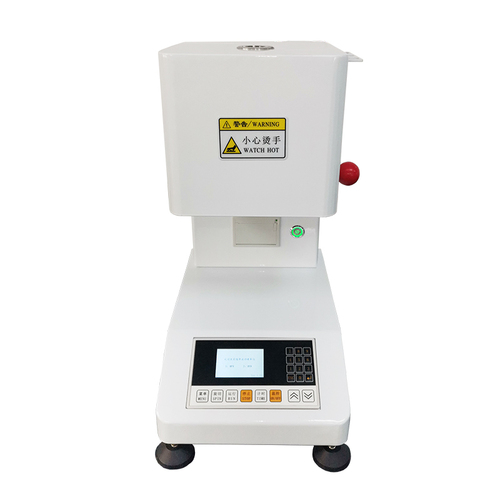 Melt Flow Indexer , Flow Rate Meter
Price And Quantity
Product Specifications
Product Description
Melt Flow Indexer , Flow Rate Meter
Product introduction
Melt Flow Rate Instrument MIP meets the demands of GB/T3682-2000, as well as ISO1133-97, ASTM D1238,JIS K7210 and other standards involving main parameters. The melt flow indexer is suitable for measuring melt mass flow rate(MFR) and melt volume flow rate(MVR) of plastic materials such as polyethylene, polypropylene, polystyrene, ABS, polyamide, fiber resin, acrylic, POM, fluorine plastic, polycarbonate. It is widely used in plastic production, plastic products, petrochemical industries and related institutions, research institutes and inspection departments.
Software features
A. High-precision color controller in English; special customized membrane keypad; incomparable advantages in the control precision and service life.
B. Automatic cutting, accurately up to 0.1s; setting the cutting time and the number of cutting freely.
C. Built-in mini printer to print the test data
D. Dual temperature control system:double imported heating coil, double imported PT100 platinum resistance sensor, independent temperature control of the upper and lower sections, to improve the test accuracy and stability of temperature.
E. Increasing displacement sensor, able to testing MVR , the precision up to 0.001mm.
F. Able to connect to a computer via USB, and to set test conditions by software on the computer, to print data and and store data.
Display mode
Performance standards
Temperature range:normal temperature-400℃
Temperature fluctuation:±0.2℃
Temperature uniformity:±0.5℃
Temperature display resolution:0.1℃
Time display resolution:0.1S
cylinder diameter:Φ2.095±0.005mm
The length of the discharge hole:8.000±0.025mm
Charging cylinder diameter:Φ9.550±0.025mm
Weight accuracy:±0.5%
Output mode: automatically printing via mini printer
Cutting mode:cutting by hand or automatically
Test load:total 8 grades,8 sets of weight
Power voltage:AC220V±10% 50HZ
Trade Information
shenzhen,guangzhou

300 Per Month
Contact Us
Floor 8th, HengMei Building, No 81, GuanTai Road, Nancheng District, Dongguan, Guangdong, 523071, China
Phone :86-769-22403424