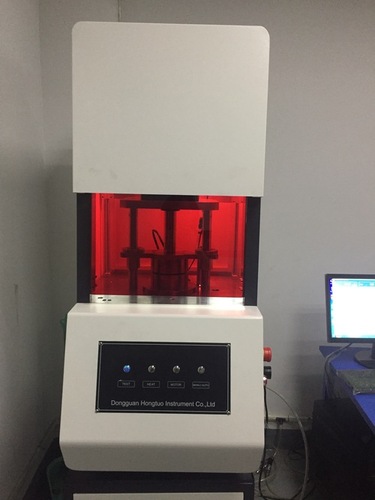 Rubber Mooney Viscosity Meter
Price And Quantity
Product Specifications
Product Description
Rubber Mooney Viscosity Meter / Tester , Mooney Viscosity Test Machine / Equipment / Instrument / Apparatus / Device
Introduction
A. High-precision sensor: 0 to 100 Mooney values. The Mooney accuracy is within ±0.5 Mooney. Resolution: 1/10 Mooney
B. Control system: computer control and interface board for data collection, preservation, processing and printing test results and curve processing.
C. Rotary system: The number of gears is used to reduce the speed of Electronic Products + gear reducer + reduction gears. Rotor speed: 2 ±0.02r/min.
D. Temperature control system: Using Intelligent digital temperature control instrument, real-time Automatism adjusts PID control parameters. Temperature control range 0--200 °C, temperature control accuracy ± 0.3 °C, temperature resolution 0.1 °C.
E. Data transmission method: RS232 transmission
F. Display mode: Viscosity-106+WIN-XP test software computer screen display, plus excellent user software and advanced hardware equipment make the whole measurement very convenient, fast, accurate and pleasant.
G. Rotor: Cr6wv material, the larger rotor is ¦38.10 ± 0.03 plane tooth number 24, the smaller rotor is †30.48 ± 0.03 plane tooth number 19.
F. Measurement and control mode: humanized measurement and control method, mouse click-to-use or host panel touch button.
Â
Function of Software
A. Test standardization: Comply with GB/T1232 "determination of the Mooney viscosity of unvulcanized rubber", GB/T 1233 "determination of the Mooney viscometer method of early curing properties of rubber compounds " and ISO289, ISO667.,other standards.
B. Sample information: setting up the number of plastic materials ,such as "outer tire 5", "RBS6" and so on. If the user wants to add a title name to the printed drawing, any type of title text description can be set.
C. High-quality features: The excellent function of humanized design is to modify the measurement time in the test process. The rubber material is estimated to set a 20-minutes measurement time. When do the actual measurement with 11 minutes, it has been measured at t18 at 9 minutes or 10 minutes. If for the small rotor, the measurement has been completed. When measure out t35, If it is the large rotor, the measurement is completed also. In this case.it is no longer necessary to go on testing. Press "Send as" and the experiment is immediately stopped at 9 or 10 minutes above. The complete Mooney curve is drawn. calculates all the data and stores the data curve in the database. If at 20 minutes the t18 or t35 is not measured, the experiment will automatically move the points and minutes downwards (by manually changing the measurement time) until t18 or t35 is measured. If 200 minutes t18 or t35 is not measured, this measurement will be automatically ended. This feature undoubtedly greatly facilitates the user, saving precious time and rubber materials.
D. The graph curve scale is automatically optimized by Auto Scale. After the measurement is completed, the software will automatically adjust the Y scale according to the measurement value size 0-100 Mv 0-200 Mv, so that the curve is more beautiful, more curves are compared, completely different rubber materials, different Curve shape, different measurement time, can also be compared.
E. Database: The software presets 100 numbered databases. Each bank can store unlimited sets of measurement data. In the face of thousands of sets of data for months and years and decades, the user can easily put the data in different time periods into different databases. The purpose of setting the database address is here.
F. Automatic archiving at the end of the test. Automatically calculate the maximum Mooney, minimum Mooney, tH, tL, Mend, Tend, 15, 30, M1+4, M1+5, M1+6, M1+7, M1+ 8, M1+F and so on.
Accessories
A. One copy of one-year warranty and one English operation manual.
B. A special test software for rubber Mooney viscometer.
Main Technical Parameters
A. Temperature range 0-200°C
B. Temperature measurement accuracy ±0.3°C
C. Control accuracy 0.3°C
D. Temperature Resolution 0.1°C
E. Torque range 0-100 Mooney
F. Calibration accuracy 100 ±0.5 Mooney
G. Rotor speed 2 ±0.02 rev/min
H. Measurement time 0-200 points Resolution 1 second
I. Ambient temperature 0-35°C
J. Relative humidity <80
K. Test pressure 11.5KN ±0.5KN
L. Gas distribution 0.45-0.6MPA
M. Power supply AC 220V 1KVA
N. Machine size: about 660ƒ—570ƒ—1300mm
O. Machine weight: about 210Kg
Main Configuration
1. Cylinder: Jarring series standard cylinder
2. Temperature Control System: Omron Temperature Controller
3. Force sensor: Shanghai Chengzhi high-precision sensor
4. Pneumatic components: Yadeke
5. Pneumatic door automatic lifting
6. A special test software for Mooney viscometer (domestic, independent research and development.)
7. Imported NSK Bearings
Trade Information
3-7 Days

Contact us for information regarding our sample policy
Contact Us
Floor 8th, HengMei Building, No 81, GuanTai Road, Nancheng District, Dongguan, Guangdong, 523071, China
Phone :86-769-22403424