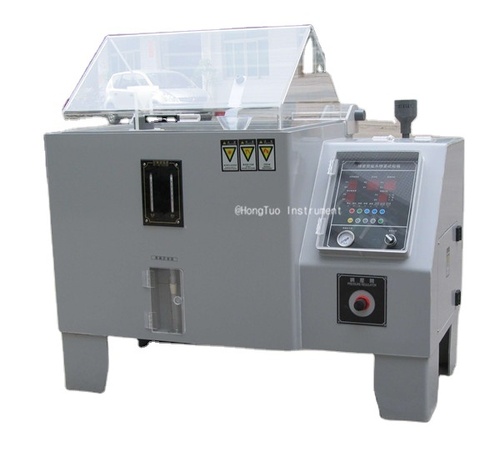 Salt Spray Corrosion Resistance Environmental Testing Chamber
Product Description
Salt Spray Test is a standardized and popular corrosion test method, used to check corrosion resistance of materials and surface coatings.Usually, the materials to be tested are metallic and finished with a surface coating which is intended to provide a degree of corrosion protection to the underlying metal.
Body specification (60/90/120)
60: inner box:600*450*400(L*M*H) outer box:710*560*560(L*M*H)
90: inner box:900*600*500(L*M*H) outer box:1050*750*600(L*M*H)
120:inner box:1200*1000*500(L*M*H) outer box:1350*1150*600(L*M*H)
Control system
1. HDT temperature controller
2. Digital display PID automatic calculation
3. SSR output
4. High-stability platinum temperature probe
5. Temperature error: ±1
6. Pressure Tank adopts Henry's Law, temperature and humility easy to adjust, testing humidity reach up to 95%, with national standard met.
Water supplement system
Automatic and manual system of water supplement to keep test continuous, meeting our clients various environmental requirements.(with a tap water pipe ready under automatic water supplement)
Standards met
IEC,MIL,DIN,ASTM
Trade Information
shenzhen

300 sets Per Month
Contact Us
Floor 8th, HengMei Building, No 81, GuanTai Road, Nancheng District, Dongguan, Guangdong, 523071, China
Phone :86-769-22403424