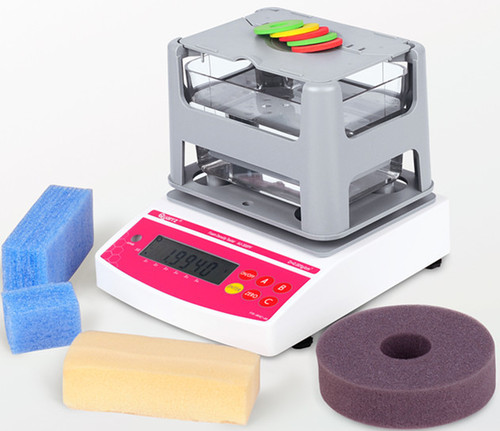 Sponge Density Meter
Price And Quantity
Product Specifications
Product Description


AU-300PF,AU-600PF Leading Manufacturer Sponge Density Meter , Foam Density Tester , Bibulous Rate Testing Instrument

Usage:to test density for sponge,foam,polymer foaming body.
Application:sponge,foam,shoe materials,gym and sports equipment,heat insulation materials,wood furniture industry,packing materials,cushioning materials,polymer,new materials researcing laboratory.
Measuring Method:
Opened pore measuring mode S
Standards:In accordance with Measuring Theory:
Density has effect on foaming's durability and supportability.it can make difference on compactness and frothing percentage.In general,high density and good foaming ability can keep original physical property to meet production target.The measurement standards for Polymer,sponge rubber,eva,pu,foam,PE foam and opened pore materials that identified by ASTM D 3574 is immersion saturated method;the measurement standards for closed pore materials is for solids typical testing method.
Measuring Resolution:
AU-300PF,AU-600PF density resolution:0.001g/cm3
Function and Feature:
1. The density of all kinds of sponge,foam,packing materials,cushioning materials.,etc like polymer products can be measured.
2. Volume,opened pore volume,closed pore volume,closed gap rate,bibulous rate,quality and volume change rate can be read directly.
3. Fixed volume density can be measured.
4. Function of actual water temperature setting,measuring medium density setting,air buoyancy compensation setting,density top and bottom limitation setting.
5. Function of actual water temperature setting,measuring medium density setting,air buoyancy compensation setting,density top and bottom limitation setting.
6. Equiped special windproof dustproof cover,which makes the structure more convenient and durable.
7. Including RS - 232C communication interface.it is convenient to connect PC with printer.DE-40 can be chose to print measuring data.
8. Gross weight/Size:4.5kg/length 42.5cm x width 17.5cm x height 32.5cm
9. Power supply:AC 100V-240V 50HZ/60HZ Europe standard
Trade Information
3 Days

standard exporting package
Contact Us
Floor 8th, HengMei Building, No 81, GuanTai Road, Nancheng District, Dongguan, Guangdong, 523071, China
Phone :86-769-22403424