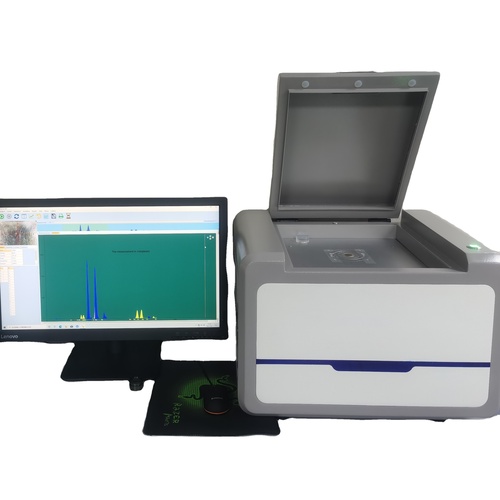 XRF Gold Tester DX-2800
Price And Quantity
4999.00 - 6999.00 USD ($)
Product Description
2 Years Warranty!!!
CE , FCC , Rohs
XRF Gold Tester DX-2800
performance and configuration
Analysis range 1ppm to 99.99%
Accuracy RSD ≤ 0.05% (Au ≥ 90%)
Sample form Solid, powder, liquid light
Tube voltage 5KV ~ 50KV (USA)
High Voltage Power Supply 0 ~ 50KV Spellman (USA)
Tube current 0uA ~ 1000uA
Camera HD camera
Filters Choose a variety of customized sections
Detector type Si-pin (USA)
Resolution Si-pin160 ± 5eV
Multichannel analyzer KEY-DMCP
Sample chamber size 310 * 280 * 60 (mm)
Test time 10sec ~ 100sec
Elements of interest Noble metal Au, Ir, Ag, Pt, Pd, Ru, Rh, Os, etc.
Basic metals W, Cr, Mn, Fe, Co, Ni, Cu, Zn, Cd, Sn, Pb, etc. (Na ~ U)
Analysis software KEY-FP qualitative and quantitative analysis software
External dimensions 380 * 372 * 362 (mm)
Weight 31Kg

Instruments Environmental requirements
Ambient temperature -5°C ~ 40°C
Relative humidity 15% ~ 90%
Power Requirements AC 220V ± 5V, 50/60HZ
The Principle of Energy Dispersive
X Fluorescence Spectrometer
High-energy X-ray stimulates atomic electron shell,the extranuclear electron of atoms will jump and secondary X-ray energy releases. Because the energy that different element releases possesses different characteristic. Detection system can measure the energy and quantity to calculate the elements content.
The Main Components
High Voltage-X-Ray Tube-Detector&Pre-Amplifier-Main Amplifier-DPP-Control Module-Communication Module-Display System, etc
Currently using XRF analyzer for composition analysis of precious metals and purity judgment has become a method of reliable performance, widely application and high popularity. Moreover XRF analyzers have the support of the national standard. Compared with fire assay method and chemical reagents test method, using XRF analysis of precious metals is a much more quickly, more economic and multi-element detection method.
Fluorescence spectrum analyzers that HongTuo Instrument produces provide a detection technology of convenient operation ,competitive price, stable and accurate performance. We don't need to put test tools into the tested sample materials, and do not damage the samples being measured, then we can obtain the metal elements information of jewelry. The whole testing process only takes couple of minutes. All the liquid, solid and powder samples are available.
Trade Information
shenzhen

300 sets Per Month
Contact Us
Floor 8th, HengMei Building, No 81, GuanTai Road, Nancheng District, Dongguan, Guangdong, 523071, China
Phone :86-769-22403424