Alloy & Glass Densitometer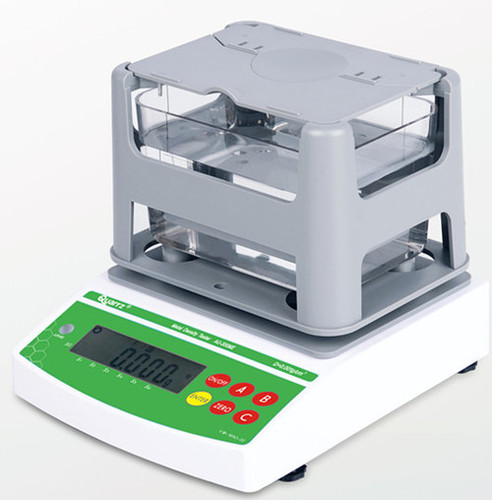 Alloy & Glass Densitometer
Price And Quantity
Product Specifications
Product Description


Original Densitometer Factory Price for High Precision Metal , Alloy , Hard Alloy
Application:metal materials,hard alloy,nonferrous metals,rare metals,spacecraft components,military products manufacture,metallurgical products manufacture,precious metal products,metal sealing,transmission parts,new materials researching laboratory.
The density range for alloy products is very wide.it is around from 1.80g/cm3 to 19.32g/cm3.In the actual measuring situation,products with more high density and more less weight,the reproducibility density value error will be more bigger.Therefore,to get small error result,it is necessory to take high weight resolution density measurement instrument.Currently alloy density meter on market is not only without simple operation,but also the reproducibility error is big.
The alloy densitometer researched and produced by Quarrz has been equiped high precision weight sensor and water measuring accessories without binding samples;Density value can be measured instantly;It has the feature of high precision,simple operation,reliability;
Standard:GB/T3850,GB/T10421,GB/T5163,GB/T4196,GB/T4123,GB/T5586,JB/T7780.
Measurement resolution:
AU-120ME,AU-200ME density resolution:0.0001g/cm3
AU-300ME,AU-600ME,AU-900ME,AU-1200ME density resolution:0.001g/cm3
Features and Functions:
1. Any metal materials can be measured.
2. Unobstructed without lifting lid design,more simpler operation.
3. High precison weight resolution,makes measuring result more accuracy and reliability.
4. Any shape can be measured instantly,suitable for quick measurement situation.such as site and laboratory.
5. Function of measuring volume filling rate.
6. No need to bundle samples.weight for suspension wire can be deducted to zero.
7. Either water or other liquid can be used as medium.
8. Function of actual water temperature setting,medium density setting.
9. Function of air buoyancy compensation setting,top and bottom limitation for density setting.
10. Adopt completed injection moulding transparent PC water tank(length 15.3cm x width 10.7cm x 9.3cm),which can resist wear,fall off,and corrosion.
11. Adopt precision aluminum alloy completed testing board.
12. Equiped special windproof dustproof cover,which makes the structure more convenient and durable.
13. Including RS - 232C communication interface.it is convenient to connect PC with printer.DE-40 can be chose to print measuring data.
14. Gross weight/Size:4.5kg/length 42.5cm x width 17.5cm x height 32.5cm
15. Power supply:AC 100V-240V 50HZ/60HZ Europe standard
Trade Information
300 sets Per Month

3 Days
Contact Us
Floor 8th, HengMei Building, No 81, GuanTai Road, Nancheng District, Dongguan, Guangdong, 523071, China
Phone :+8613267004347