Gold Purity Tester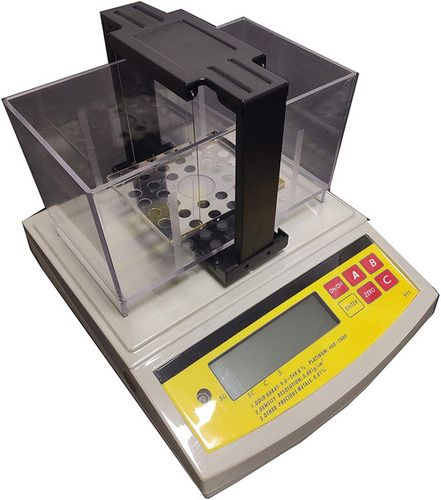 Gold Purity Tester
Price And Quantity
Product Specifications
Europe Standard AC 100V - 240V

Europe Standard AC 100V - 240V Volt (V)
Product Description
Gold Purity Tester

Please be noted that the machine has limited function which is determined by its' principle.
Following gold type can NOT be tested:
(1)gold has any decoration.
(2)gold has the painting.
(3)gold inside is hollow.
(4)plating gold.
Application
pawn broking, bank, jewelry shop, precious-metals recovery, jewelry factory, gemstone testing center,precious metals researching.etc.
In accordance with archimedes principle water buoyancy method, GB/T1423 of precious metals testing standard,and so on.
Combine Archimedes principle with micro electronic technique and adopt sensor imported from Germany,the purity can be calculated through measuring density of precious metals.It has the features of no damage testing,simple operation,fast and accurate.
K value of gold,PT value of platinum,density value,purity percentage can be measured.
Features
a)Quickly measure the purity of gold,platinum,and other precious metals.Distinguish if the object is fake or genuine.
b)No damage testing, cleaning and environmental protection.
c)Measuring just need 10 seconds,convenience,stabilization,and accuracy.
d)Multi-mode,gold mode,platinum mode,other precious metals mode can be shifted.
e)Multi-function;the purity of other precious metals can be measured.such as tin,copper,silver.etc.also it can be used as precision balance.
f)Function of top and bottom limitation,it can display OK,HI,LO in the state of
qualified,exceed,less.Prompt alarm.
g)Function of automatic zero tracking,buzzer warning,and overload warning.
h)Function of solution compensation.Either water or other liquids can be used as medium.
i)Adopt the completed high-capacity measuring accessories with the transparent injection mould tank,which can resist wear,fall off,and corrosion.
j)Adopt the completed special wind and dust cover,which makes the structure convenient and durable.
k)Interface of RS-232C is included.the printer of DE-40 will be available to connect PC with machine.
Specification
Model: DE-200K
Density resolution: 0.001g/cm3
Maximum weight: 200g
Weight resolution: 0.001g
Mode: Gold, Silver, Platinum