Liquid Density Meter DH-300L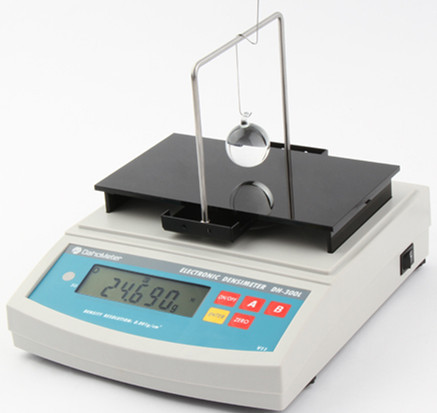 Liquid Density Meter DH-300L
Price And Quantity
Product Specifications
Product Description
Liquid Density Meter DH-300L

Direct reading data, Shorter measuring time, Density resolution 0.001 g/cm3
Combine Archimedes principle with modern electronics technique of DH-300L; Digital display liquid desi meter; The data can be read directly with high measurement accuracy; The operation is more easy and get away from the influence of external factor and temperature compared with traditional we chsler balance method and pycno meter method; It can be applied to the field of quality management, cost control,formula researching and so on. Also,the solvent, adhesive, paint, pitch, resin, chemical oils,edible oil,food additives,drink,dairy products can be measured.

Application:
Chemical solution,modern energy,oil fuel,fine chemical engineering,chemical reagent,chemistry researching laboratory.
Standards:
In accordance with Archimedes principle, GB/T 611,.GB/T11540,GB/T12206,GB/T5518 standards etc.
Specification:
Density resolution: 0.001 g/cm3
Maximum weight:300g
Minimum weight:0.005g
Measuring range: 0.001-99.999g/cm3


Features:
Density value can be showed by one procedure;repeatedly continuous rapid measurement can be worked.
Digital display; High accuracy of measurement; Simple operation; Stable and Durable.
Density value of samples with the temperature from normal to 100 centigrade can be measured.
Take samples conveniently;50CC or less would be okay.
There is no cumbersome debugging and operation compared with traditional we chsler balance method and pycno meter method.
It is very easy to clean measurement cup;can't get the limitation of the size of pycno meter caliber.
Coordinate with the operation of thermostatic tank to measure the proportion with the required temperature.
Adopt the completed special windproof and dust proof cover,which makes the structure convenient and durable.
Volatile liquid,corrosivity liquid,vicidity liquid,strong acid and strong lye liquid can be measured quickly.
Interface of RS-232C is included.the printer of DE-40 will be available to connect PC with the instrument.


Measurement procedure:
Place beaker with sample on testing board.and take off weight of pothook.
Hang standard weight on the pothook and submerged in liquid to be tested totally;press ENTER button to memory.Density valuve will be displayed.
Trade Information
7 Days

standard exporting package
Contact Us
Floor 8th, HengMei Building, No 81, GuanTai Road, Nancheng District, Dongguan, Guangdong, 523071, China
Phone :+8613267004347