MIni Portable Gold Melting Induction Furnace Excellent Quality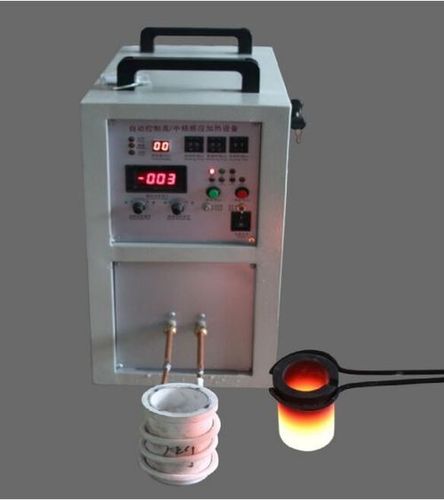 MIni Portable Gold Melting Induction Furnace Excellent Quality
Price And Quantity
Product Specifications
Europe Standard AC 100V - 240V

Europe Standard AC 100V - 240V Volt (V)
Product Description
MIni Portable Gold Melting Induction Furnace Excellent Quality
Working Principle:
The power supply adopts the all-solid-state Siemens IGBT frequency conversion module technology. After the induction heating device outputs a strong variable frequency current, a strong magnetic field is generated through the induction coil. Under the action of the magnetic field, a vortex current is formed on the surface of the heated workpiece, thereby rapidly heating the workpiece.
Main Feature:
1.Fast heating: the fastest heating is less than 1 second, and the heating speed can be adjusted and controlled.
2.Energy saving and environmental protection: The thermal efficiency is over 95%, which is a perfect substitute for thyristor, gas, B, coke and electric furnace.
3.Machine safety is reliable: over-current, phase loss, water shortage, over voltage, short circuit, overheat protection, greatly improving the reliability of the equipment.
4.Small footprint: less than 1 square meter, light weight and easy to move.
5.The machine is easy to install and operate, just need to connect water and electricity.
6.It has electromagnetic stirring function to make the melt more uniform, which is beneficial to scumming, reducing impurities, making the melt or casting more bright without shrinkage and shrinkage.
7.Mainly for metals: platinum, palladium, rhodium, gold, silver, copper, steel, aluminum, activated carbon, gold ash, gold sand, electrolytic mud, gold and silver powder and other metals.
Specifiction:
Power supply input:220V/50/60Hz single phase
Output power:around 5KW
Melting metal type:gold,karat gold,silver,copper.,etc.
Maximum gold melting weight:1kg / 2kg gold
Melting time:3 - 5 minutes
Cooling water:Tap or cooling water circulation machine
Dimension(main host):49*24*48cm
Weight:20kg
Contact Us
Floor 8th, HengMei Building, No 81, GuanTai Road, Nancheng District, Dongguan, Guangdong, 523071, China
Phone :+8613267004347