Portable Spectrometer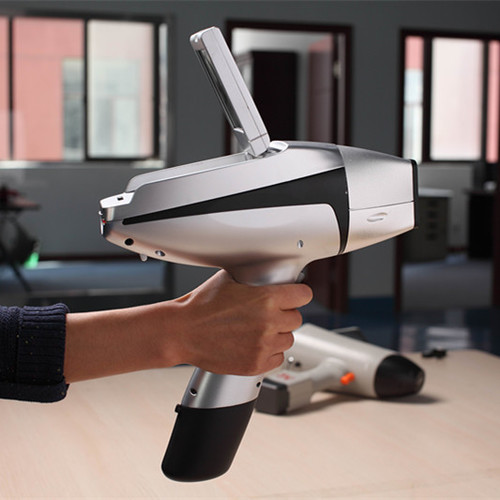 Portable Spectrometer
Price And Quantity
4999.00 - 20999.00 USD ($)
Product Description
Portable Spectrometer
Specification:
Analysis 1 PPM to 99.99%
Accuracy of 0.05% or less
Solid, powder, liquid items under test form
Light pipe 0 kv to 40 kv voltage
High voltage power supply 0 - 40 kv
Light control current 0 mu A - 100 mu A
filter Can choose a variety of customized switch
The probe Sipin
Resolution of Si - pin145 + 5 ev
Multichannel analyzer DMCP
Test time 30 SEC - 100 SEC
Measuring elements from sodium (Na) to uranium (U) between all the elements
Analysis software KEY qualitative and quantitative analysis software
Shape size 220 * 300 * 220 (mm)
The total weight of instrument weight 1.58 Kg (with battery)
Features:
1.More convenient operation.
Lightweight, small in size, ergonomic handle design, easier to grip, more convenient to use in the field.
Sealed all-in-one design with water, water and dust protection for continuous use in harsh environments.
Samples do not need to be prepared and can be measured directly on the surface of the object. The instrument can be used for quick testing in hand or for long periods of fine testing of samples using the test station (optional).
2.Better performance.
Non-destructive fast detection, alignment on-the-go, one second can report the results and the gold medal number. Performance is comparable to a desktop computer, the detection effect is fast and accurate.
At the same time, the detection of titanium, vanadium, chromium, manganese, iron, cobalt, nickel, copper, zinc, palladium, palladium, vanadium, palladium, palladium, silver, tantalum, tin, tantalum, tantalum, tantalum, tantalum, tantalum, tantalum, platinum, gold, lead, tantalum elements, and can be customized according to customer needs to add elements.
3.Higher-end configuration.
The introduction of four core technologies, such as micro light tube, new Si-PIN detector, micro digital signal multi-processor and intelligent analysis module, makes it have similar test accuracy.
The use of ultra-high main frequency and large memory, large storage space, can store data in large quantities. The newly developed digital multi-channel technology guarantees an effective spectral count of up to 500kcps per second.
4.Safer protection.
Intelligent three-color early warning system: LED three-color long light belt design, 360 degrees no dead end display. Green light when power on, test red light flashing, equipment failure yellow light flashing, instrument status, at a glance.
Secure linkage lock device, when the software can not control off, tap, the first time to protect your security, guard the last level.
5.Smarter software.
Key3000 handheld X fluorescent alloy analyzer equipped with specialized applications specifically for the alloy industry, with intelligent, high sensitivity, short test time, easy operation and so on.
New intelligent software, one-click intelligent operation, dual-mode design (user mode and expert mode). User mode one-click identification sample material testing, expert mode can add elements, add specific curves and other in-depth analysis operations.
Built-in strength correction method to correct deviations caused by samples with different geometric states and uneven structural densities.
Contact Us
Floor 8th, HengMei Building, No 81, GuanTai Road, Nancheng District, Dongguan, Guangdong, 523071, China
Phone :+8613267004347