Powder Density Tester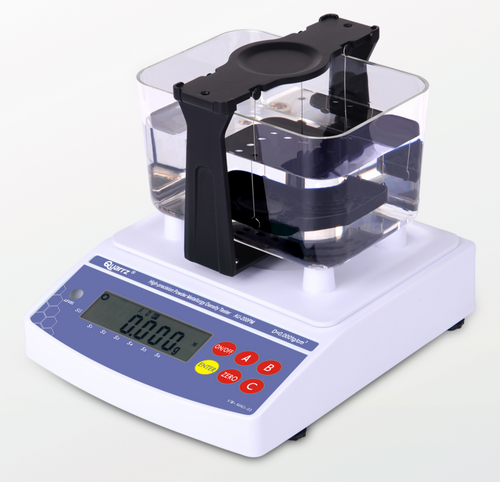 Powder Density Tester
Price And Quantity
Product Specifications
Product Description
Powder Density Tester

Application:
metal powder, refractory materials, ceramic materials, carbon materials, abrasive materials, cement powder, astic powder and granule. rubber powder,natural stone, soil, paint, rock and coal, ion exchange resin,powder true density researching laboratory.
Principle:
Archimedes dipping volume substitution method,coordinate with professional pycnometer,read density value correctly.
Standard:
In accordance with GB/208, GB/T9966, GB/T1033.1, GB/T 23561, GB/T24203, GB/T8330, GB/T21782.3, ASTM C 97, D 5004, C329, 217, DIN51057
Measurement Type:
(1)Rubber materials
carbon black, white carbon black, calcium carbonate, zinc oxide, titanium dioxide, silica gel, monox.,etc chemical materials.
(2)Battery materials
lithium cobalt oxides, lithium manganate, lithium iron phosphate, graphite, ternary, diaphragm.,etc electrode anode and cathode materials.
(3)Catalyst materials
petrifaction, chemical industry, fine chemical engineering, medicine, food, agriculture.,etc catalyst materials.
(4)Food additives
starch, activated clay, bentonite
(5)Magnetic materials
ferroferric oxide, ferrite, manganous-manganic oxide
(6)Adsorbent
activated aluminium oxide, molecular sieve, zeolite,activated carbon
(7)Nanometer materials
nanophase ceramics powder(alumina, zirconia, yttria,silicon nitride, carborundum), nanocrystalline metal powder(silver powder,iron powder, copper powder,tungsten powder, nickel powder)nanometer high molecular material,carbon nano tube
(8)Other application:
superfine fiber, porous fabric,composite materials, mineral, soil, slurry, sediment, suspended materials, special paper.,etc special materials.
Measurement resolution:
AU-120P density resolution:0.0001g/cm3
AU-300P density resolution:0.001g/cm3
Function and Feature:
1.Real density for any powder can be readable directly.
2.Density for liquid medium can be readable(medium for most of measuring powder is not distilled water.
3.Easy operation,quick,accuracy.
4.Different liquid medium can be used according to features of products.
5.Function of actual water temperature setting,other liquid medium density setting.
6.Function of air buoyancy compensation setting,density top and bottom limitation setting.
7.Adopt RS-232C communication interface,it is convenient to connect PC and printer.AU-40 is available to be chose to print data.
8.Gross weight/size:4.5kg/length 42.5cm x width 17.5cm x height 32.5cm
9.Power supply:AC 100V-240V 50HZ/60HZ europe standard.
Contact Us
Floor 8th, HengMei Building, No 81, GuanTai Road, Nancheng District, Dongguan, Guangdong, 523071, China
Phone :+8613267004347