Sodium Silicate Modulus Tester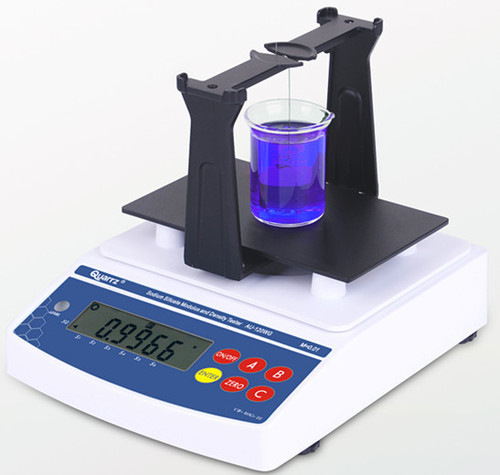 Sodium Silicate Modulus Tester
Product Description
Application:
ceramics,civil engineering,chemical engineering system,mechanical industry,building industry,agriculture, cleaning industry.,etc.
In accordance with GB/T4029-2008 standards,the series products according to Archimedes principle buoyancy method.it is the new type sodium silicate modulus and density tester that has been researched and produced by Quarrz.density SG,modulus M,baume Be can be tested accurately and quickly.
Sodium silicate is the common name for compounds with the formula Na2(SiO2)nO. A well known member of this series is sodium metasilicate, Na2SiO3. Also known as waterglass or liquid glass, these materials are available in aqueous solution and in solid form. The pure compositions are colourless or white, but commercial samples are often greenish or blue owing to the presence of iron-containing impurities. The modulus M of sodium silicate is determined by the proportioning of quartz sand and alkaline, i.e. molar ratio of SiO2 and Na2O, modulus that displays the composition of sodium silicate is one of important parameter, and is commonly between 1.5 and 3.5. The larger the modulus is, and the more difficult the solid sodium silicate solves in water. the content of water glass in water solution is indicated by density or baume.Viscosity of water glass is closely related to modulus,concentration and temperature.
Technical Parameter:
(2)AU-120WG modulus resolution:0.01M, baume resolution:0.001Be, density resolution:0.0001g/cm3
Features:
1. Density,modulus,baume can be read directly.
2. High precision,simple operation,stability and durability.
3. Dynamic measuring,density value can be updated along with liquid formula.
4. Function of water temperature setting and air buoyancy density compensation setting.
5. Function of buzzer warning and overload warning.
6. Including RS-232C interface.it is convenient to connect PC with printer.AU-40 can be chose to print data.
7. Equiped with special windproof dustproof cover,convenient structure,sturdy and durable.
8. Volatile liquid,corrosive liquid,viscous liquid,strong acid and strong base liquid can be measured quickly(relative accessories is available)
Trade Information
7 Days

Standard export wooden package
Contact Us
Floor 8th, HengMei Building, No 81, GuanTai Road, Nancheng District, Dongguan, Guangdong, 523071, China
Phone :+8613267004347