Solid and Liquid Density Testing Apparatus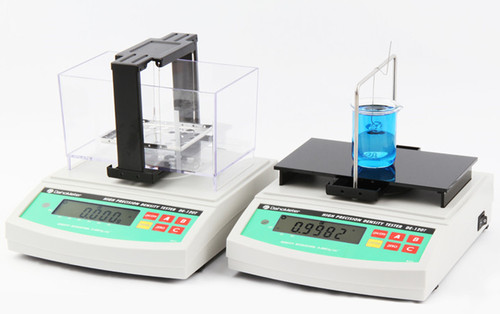 Solid and Liquid Density Testing Apparatus
Product Description
Solid and Liquid Density Testing Apparatus

Standards:Specifications:
Density resolution: 0.0001 g/cm3
Maximum weight:120g
Minimum weight: 0.001g
Measurement range: 0.0001-99.9999g/cm3
Features:
(1)No need to open and close the lid,simple operation,shorter time measuring,according to the specification of new materials laboratory.
(2)Show the percentage composition of mixed samples for researching and developing new materials.
(3)Automatically judge whether density is qualified or not;prompt alarm.
(4)Function of solution compensation.either liquid or water can be used as medium.
(5)Function of setting actual water temperature,measuring medium density,and water proof medium density.
(6)Function of setting aerostatic buoyancy and the bound of density.
(7)Adopt the completed high-capacity measurement accessories with the transparent injection mould tank,which can resist wear,fall off,and corrosion.
(8)Density value of samples with the temperature from normal to 100 centigrade can be measured.
(9)Take samples conveniently;50CC or less would be okay.
(10)It is very easy to clean the measurement cup,and can not got the limitation of the size of pycnometer caliber.
(11)Volatile liquid,corrosivity liquid,vicidity liquid,strong acid and strong lye liquid can be measured quickly.
(12)Adopt the completed special windproof and dustproof cover,which makes the structure convenient and durable.
(13)Interface of RS-232C is included.the printer of DE-40 will be available to connect PC with instrument.
Contact Us
No2., XinYa Road, The Third Industrial Park, DaLingYa Village, DaoJiao, Dongguan, Guangdong, 523071, China
Phone :+8613267004347