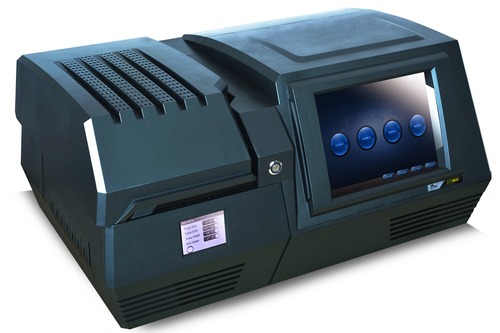 XRF Spectrometer
Price And Quantity
4999.00 - 6999.00 USD ($)
Product Description
Two Years Warranty!!!
CE , FCC , Rohs Certification
XRF Spectrometer DX-1500

DX-1500 is an excellent precious metal analysis instrument integrated an inbuilt computer with high industrial motherboard and multi- point hand touch.
Description:
DX-1500 can provide customers higher accuracy and precision.
DX-1500 with Si-pin detector delivers wide elemental coverage with an easy-to-learn software. Non-destructively analyze from sodium (Na) through uranium (U) in powders, liquids and solids.
It is designed exactly to security standards with active radiation protection, high voltage protection and X-ray tube overheating protection.
Malfunction Analyze.
Low cost with unmatched performance-to-price ratio.
Applications:
Fast, precise and non-destructive metal testing for jewellery retailers, jewellery manufacturers, precious metal refineries, pawn shops, government quality inspection departments, banks, laboratories and tertiary institutions.
Specifications:
Analysis range 1ppm to 99.99%
Accuracy RSD ≤ 0.05% (Au ≥ 90%)
Sample form Solid, powder, liquid light
Tube voltage 45KV (USA)
High Voltage Power Supply-0 ~ 50KV Spellman (USA)
Tube current 0μA ~ 1000μA
Camera High-definition camera positioning system
Detector type Si-pin (USA)
Resolution Si-pin145Kev±5
Multichannel analyzer KEY-DMCP
Sample chamber size
Test time 30sec ~ 60sec
Elements of interest Noble metal Au, Ir, Ag, Pt, Pd, Ru, Rh, Os, etc.
Basic metals W, Cr, Mn, Fe-Co, Ni, Cu, Zn, Cd, Sn, Pb, etc. (Na ~ U)
Analysis software KEY-FP qualitative and quantitative analysis software
External dimensions 670*400*330 (mm)
Weight 33Kg
Trade Information
300 sets Per Month

5 Days
Contact Us
Floor 8th, HengMei Building, No 81, GuanTai Road, Nancheng District, Dongguan, Guangdong, 523071, China
Phone :86-769-22403424